In celebration of the close of March 2022, Women's empowerment month, we spoke with 2 successful entrepreneurs we know well, Gigi Ashworth, Certified Nutritionist, Keto Expert and Author, and one of our local heroes, Kellie McCord, co-founder of Mission Blue coffee, about their inspirational journeys toward starting their own business.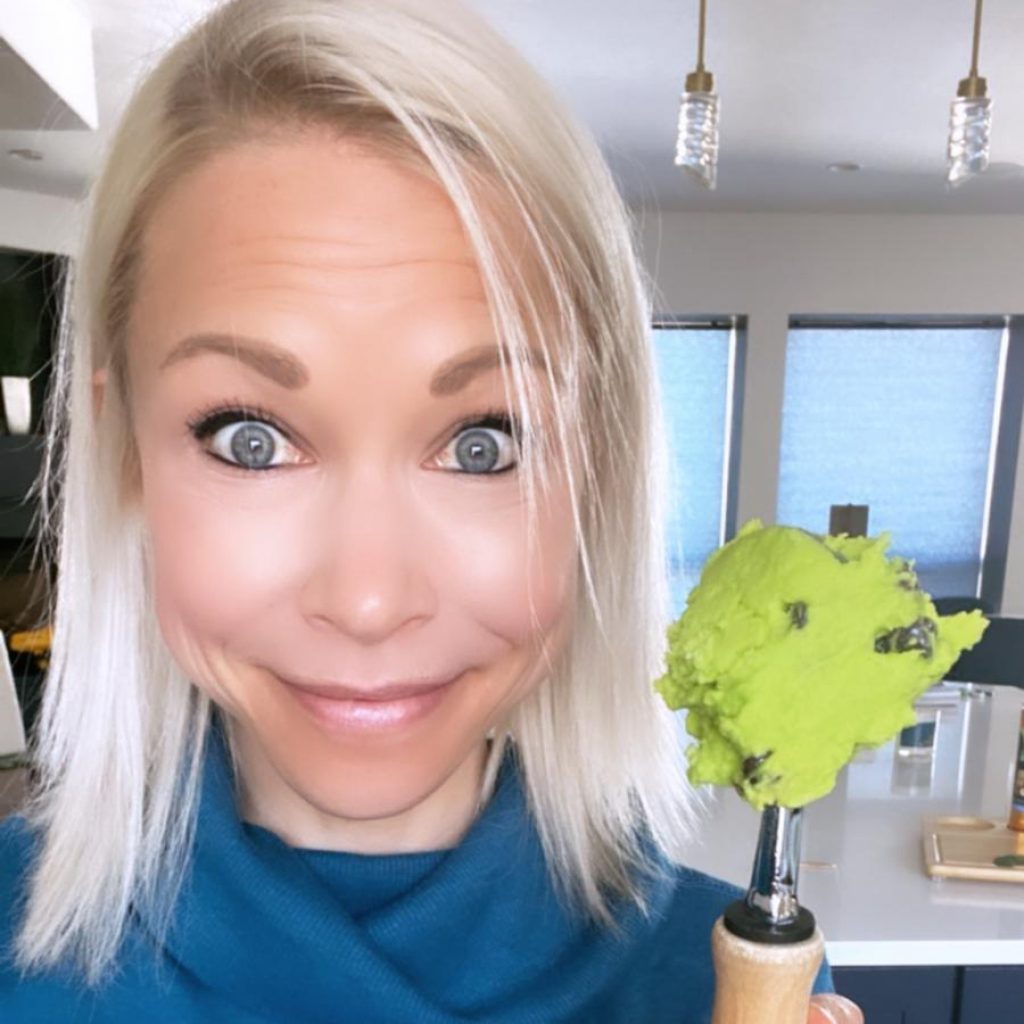 Gigi Ashworth
Certified Nutritionist, Author and Keto Instagram Influencer
IG: @gigieats
Click for Gigi's Keto Recipe Book
About Gigi
Gigi Ashworth doesn't fit in anyone's box – and that's just how she likes it 😉 She's a nutritionist, Keto recipe book author, leading IG influencer and collaborator with The Good Chocolate – she inspired and helped create our Double Crunch Vegan Mylk bar; Gigi has a signature "tell-it-like-it-is" style of storytelling and shares her ups, downs (and everything in between) moments as an expert nutritionist who is herself living a sugar-free and dairy-free life. While Gigi has become a leading IG influencer who has built a large, authentic online community, she doesn't take herself too seriously and spreads the humor thick. Gigi is a pleasure to be around, watch and learn from … and you should check her IG channel!
TGC: Gigi, when did you become an entrepreneur?
I started this journey of mine in 2011. Until then I was trying to break into Hollywood as an entertainment reporter. I applied for a job at E Entertainment, and the producer told me to become a talent first by starting my own website so people could see me and get to know my personality. I started it, and it got me a part-time reporting job, but I was constantly being told to act like someone I wasn't.
TGC: What was the biggest challenge of striking out on your own?
I am fortunate because I always had my family's support, telling me to do what makes me the happiest. But the biggest challenge was a fear of failure and not feeling like I'm good enough. In the beginning I was worried I won't meet my potential or my expectations.
TGC: How did you overcome this fear?
Well, I've always had the feeling that I want to make my family proud, so that's a good start. But I began by setting small goals that were attainable and kept going: making a website, starting shooting videos from my desktop (!), creating and updating my blog, getting on Instagram. With so many things going, if I failed at something it was more like a kick in the pants to keep going and try something different instead of a total failure. Today, for me, "failing" at something just means I need to adjust what I'm doing.
TGC: Were there any "negative surprises" on your entrepreneurial journey?
Social media is so saturated that getting your name and voice out there gets harder and harder. Platforms are constantly changing such that talent is no longer something people care about. It's just the numbers, how many followers and how many likes – it's unattractive and it sucks. The talent that needs to be seen is not being seen. I'm sort of ignoring it and just doing my thing because what keeps me going are my existing followers, and new people, who send me encouraging messages about why they appreciate my work, how I don't "sugar coat" stuff (haha, pun intended!) and show it all unfiltered. I don't pretend to be someone I'm not. I hope at some point people will appreciate real and authentic human beings again.
TGC: What has surprised you in a good way?
So many things. I've met some of my best friends through what I do. At my wedding, five of my bridesmaids were friends I had met over the internet. Of course, I got to co-create an amazing chocolate bar with The Good Chocolate that met all my dietary restrictions (no sugar, no dairy). This collab also opened my eyes to the possibility of creating products with other brands, which helps bring their products to my community, and helps the brands grow. I've also been able to travel a lot for work. I've been to Taiwan, Greece, Italy and Turkey for tourism companies to just "be myself" while traveling. When I left TV entertainment reporting, I definitely wanted to "be myself" but I never dreamed I could create a brand around it. Of course, becoming the Salmon Queen (because I love salmon and it's the perfect food for my dietary restrictions) is quite funny – someone named me, and it stuck.
TGC: What important lesson have you learned that you wish you had known when you started?
I wished that I took myself more seriously when I started. For example, by investing in more quality video equipment and learning how to edit video so I can make my videos even better. It definitely would have helped me grow faster. When the quality of my content improved, more people were enticed, and my following grew. My husband, Landon Ashworth, is a director and videographer, (www.landonashworth.com) who also helped me up my production quality by a million. So, for me the lesson is, get your s**t together, you have to invest in the things you are doing and passionate about!
---
Kellie McCord
Founder & Barista, Mission Blue Coffee
IG: @missionbluesf
About Kellie
Kellie McCord founded Mission Blue Coffee, a local San Francisco coffee shop located in the heart of San Francisco's Visitacion Valley neighborhood, the same place that The Good Chocolate also calls home. (In fact, most of The Good Chocolate's employees visit Mission Blue on a daily basis 🙂 Mission Blue offers quality coffee from their espresso bar as well as fresh pastries 6 days a week – plus gifts by local artisans in their gift shop. Mission Blue is more than a coffee shop, it's the first full-service coffee bar with outdoor seating in SF's Visitacion Valley neighborhood, serving as a true community hub where neighbors meet and mingle and enjoy a truly delicious cup of joe.
TGC: Kellie, when did you become an entrepreneur?
My husband and I experienced our first local business in San Francisco's Bayview for 9 years. We love small business. When we moved to Visitacion Valley 8 years ago, we saw a need for lots of small businesses on our main corridor. We chose coffee and local gifts as our concept, something we are both passionate about. We saw this as a need that would also bring life and community to an already beautiful street!
TGC: What was your biggest fear about starting the business?
Landing a suitable location along Leland Avenue, finding local artists and then working with the city on the permitting process. We felt like the neighborhood was ready for specialty coffee but just in case they weren't, it was a risk we were willing to take.
TGC: What surprised you in a good way?
Two things: We sought the help of the San Francisco Small Business Development Center (SFSBDC) to guide us through the business and marketing planning process. SFSBDC marketing advisor Valerie Camarda helped us realize our vision and advisor Jim Nguyen from the SBA assisted the owners to obtain a city grant that helped with interior and exterior façade improvements. Jim Nguyen as well as Katie Skjerping from the Office of Economic and Workforce Development in SF were superstars. We are so thankful for the guidance, patience and advice we received.
Second, by bringing more commerce to Leland Avenue we were hoping to encourage other retailers to open and thus, improve the wellbeing of our neighborhood through small business. Small business is one of the key success factors for a healthy neighborhood. In fact, a few new businesses have opened on Leland Avenue since we opened! We will be forever grateful to The Good Chocolate for welcoming us to Leland Avenue.
TGC: What lessons have you learned that you wish you knew when you started?
My husband, Ken, and I make a great team. He kept me grounded among the challenges. We look forward to opening another business on Leland together. I would say to ask for help from your community! I tapped into our friends' strengths like wood working, creating a mural, logo, website, etc. and asked for lots of help. We received so much support from our community. It was so amazing to have people who love you and believe in what you are doing step into your corner with their gifts and talents! To this, I would definitely add, "Enjoy the process!"