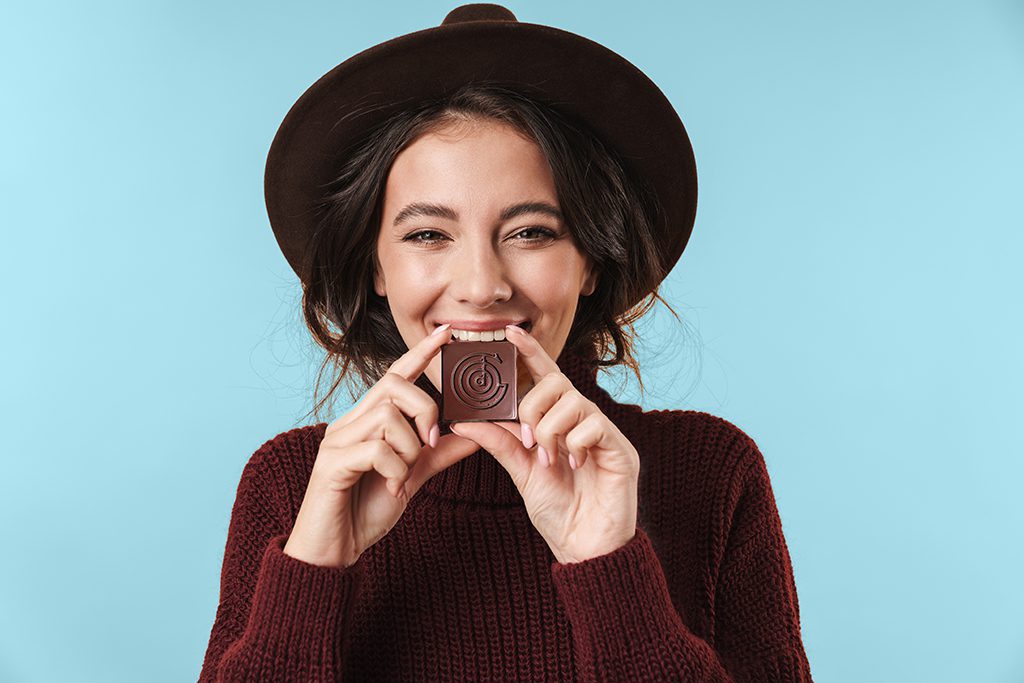 Ambassador Blind Tasting VIDEO Challenge
Help us debunk the myth that sugar free chocolate tastes bad.
We will ship you a sample kit of chocolate Squares.
Fill out the form below
Invite a friend, a relative or a random person to sample a new chocolate on camera (make sure to get their permission first).
Have a look at our Best Practices for good video before you start your shoot.
At the beginning of your shoot, establish on camera that the taster has never heard of The Good Chocolate (you keep the fact it's Zero Sugar a secret).
The candidate gets to choose the flavor they'd like to try (make sure they don't see the packaging..) 
As they taste the chocolate, be sure to capture their reaction on video (close up shots are great here!)

Follow up with a few questions…
What did they think about it?

Ask if they think it had sugar of any kind?

Guess how many carbs and calories it has?
Finally, reveal the truth!
Hand them the outer package, and tell them that it's called The Good Chocolate and has Zero Sugar!  (Be sure to keep the video rolling 😉 and capture their reaction…
Please rename the file with your full First_Last name.
Send us a link to your video or OR email to us at help@goodchocolate.com. 
As soon as we receive your video, we'll send you your reward: a Bar 6-pack of any flavors you want 🙂
Tips for shooting great testimonial videos
lighting has a huge impact on smartphone cameras because they have smaller image sensors and lenses.
Daylight is the best kind for proper lighting. If indoors, try as much as possible to shoot your video in brightly lit areas, next to a window or bright lamp.
If you're using your phone, use both hands to hold and as close as possible to your body as you record the video, you could also use Stabilizers, Gimbals, tripods or just rest your phone on other physical supports like tables.
Shoot your video in a quiet place, preferably indoors when possible with less ambient noise.  You can also capture the audio with a separate recording device suitable for the job or try this trick: use your hand to cover around the phone's microphone (but don't completely cover it). This way, unwanted noise can be reduced. 
Before you begin recording your videos, make sure that you have all of the light/camera gear, chocolate ready to go, questions to ask and shooting locations ready to go
Find the most attractive frame for your subject. The person can be facing the camera or looking slightly to the side. Make sure there's nice space and few distractions around the person. Sometimes it looks great to have the person on one side of the frame keeping the other side clean.
Enjoy the video shoot and be creative! The more fun you have the more it will show in the final result.